Recipes
Finally there is an easy-to-use system built specifically for creating, editing and managing recipes with all of the feature-rich functionality that creative professionals crave.
Built-in Versioning
Flavor Studio let's you look backward and forward at the entire development history of a recipe.
Recipe Costing
With real-time costing you can view individual ingredient costs, total batch cost, and estimated retail pricing.
Sub-recipes
Assemble component recipes into a main recipe and Flavor Studio will distribute accurate costing and nutrient composition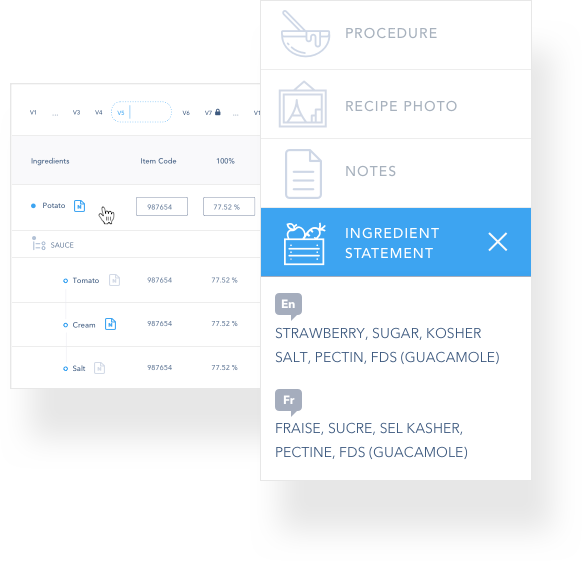 Ingredient groups
Use this feature to combine and track a variety of similar ingredients (e.g., spices) into a single row in a recipe
Formulation method
Flavor Studio lets users choose to formulate by either: Percentage, Quantity, or Baker's Percentage.
Fully customizeable
Select the units of measurements (metric, standard, volume), set the number of decimal places (1, 2, 3), and many other options.

Nutritional Analysis
All users can generate FDA compliant nutritional labels directly in Flavor Studio without the need for other external software systems
Empower all users
All Flavor Studio users receive access to these nutrition features - not limited to only a single shared computer
Layout formats
Flavor Studio exports nutritional labels to: Vertical, Horizontal, Simplified, and Side-by-Side options
Artwork exports
Choose between low resolution PNG files for internal review and high resolution PDF files for packaging designers
Automatic statements
Ingredient declarations and allergen statements are automatically generated to save users time but also easily modified.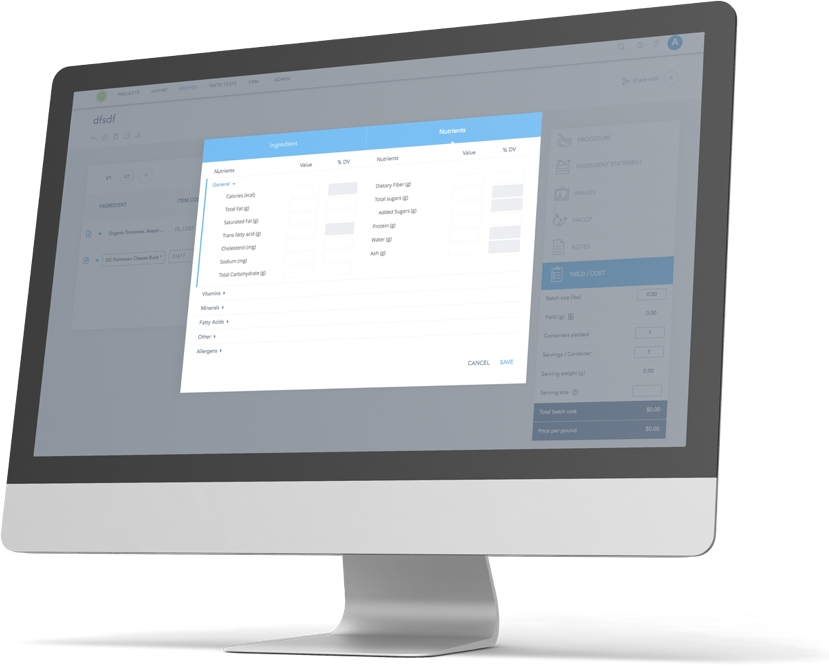 Project Management
Organize all aspects of a project's life cycle and foster collaboration with a company's most important resources - its people.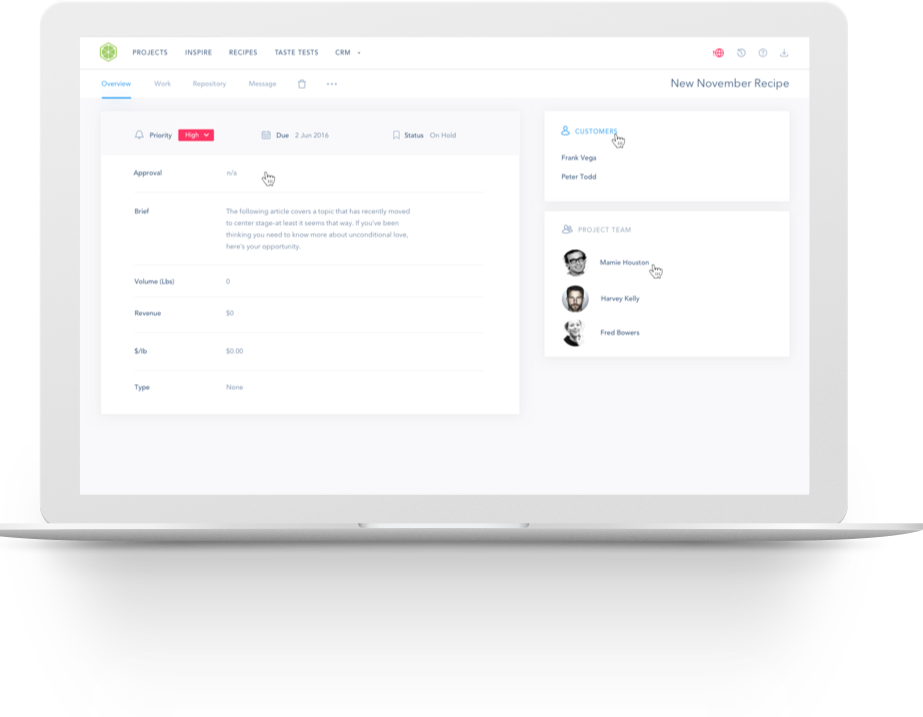 Create teams
Assemble groups of people that will work together towards driving a project to successful completion.
File storage
Secure cloud-based repository centralizes file storage for easy access to all project-related documents.
Monitor activities
Task management provides clear visibility into a project's progress and helps to identify any roadblocks.
Message board
Keep team member communication concisely organized in a single location and keep abreast of status updates.
Reminders
Never miss an important upcoming deadline with courteous emails sent before tasks are due.

Ideation
Arrive at your creative inspiration faster with Senspire's proprietary flavor predicting algorithm that reveals complementary relationships between food ingredients.
Unsurpassed breadth
Trust results based upon the world's largest recipe database with over 1.1 million recipes.
Study underlying components
Flavor Studio is compiling a comprehensive database of aroma and flavor compounds found in common foods.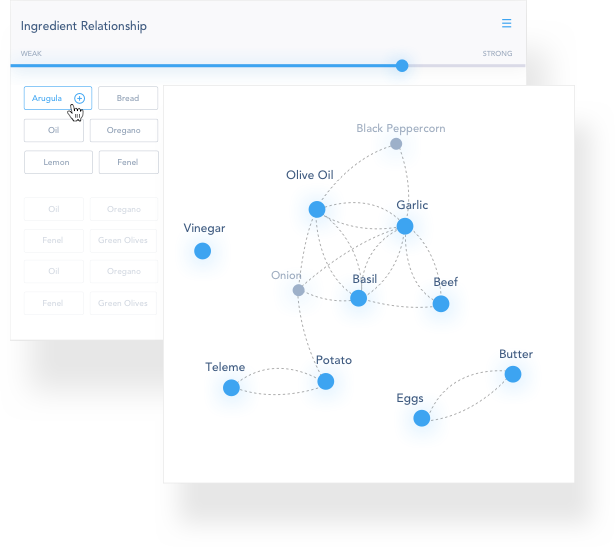 NEW visual representation
Test drive the beta graphical interface to explore food ingredient relationships in three-dimensional space.
Comprehensive ingredients
Search the complete list of food ingredients with everything from abalone to zucchini.

Taste Test
Flavor Studio includes the framework to build convenient online surveys for companies to collective objective data and/or metrics to guide the product development process.
Respondents
Choose anyone to participate without restrictions: other licensed users, fellow company employees or external customers (CLT)
Surveys
Build sensory or consumer questionnaires depending on test objectives
Data analysis
Visual reporting of results combines mean scores and modal distribution on simple to interpret infographics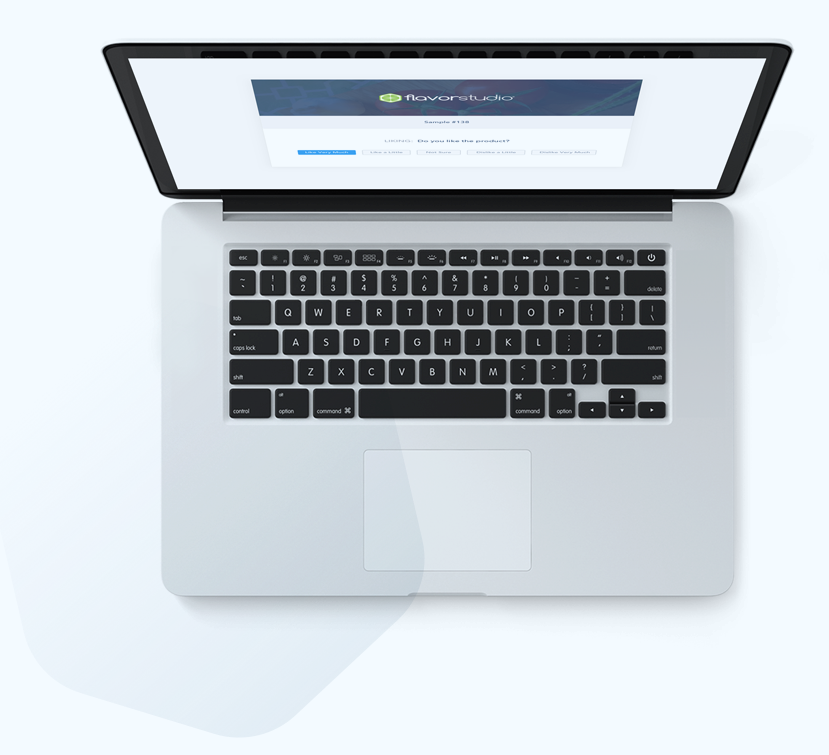 Customer Relationship Management
Comprehensive CRM capabilities are built into Flavor Studio permitting front-line team to interact with R&D on a single software system to more effectively service customers.
Digitally connected
Link sales opportunities to product development projects for seamless reporting.
Management visibility
View opportunity sales pipeline and sales team activity reports.
Robust functionality
Manage sample requests and track their shipping status with FedEx connectivity.
We'll build it
Customizable reporting ensures visibility into the important metrics for each organization.